What is The Binding of Isaac?
The Binding of Isaac is a an indie roguelike video game designed by Edmund McMillen and Florian Himsl, initially released in 2011 for Microsoft Windows. The game's plot is loosely based on the Biblical story of the Binding of Isaac.
The players take control as Isaac or one of seven other unlockable characters through a randomly-generated dungeon in a roguelike manner, fashioned after those of The Legend of Zelda, defeating monsters in real-time combat while collecting items and power-ups to defeat bosses as well as achieving unlockables, encouraging players to repeat playthroughs.
This site seeks to itemize and categorize all of the items, chapters, trinkets, rooms, monsters, bosses, secrets, achievements, characters, and everything else.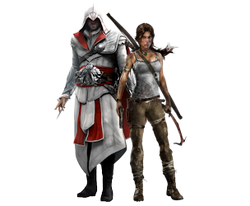 Forum
Want to discuss or ask something? For any questions, discussions or anything else check out our
discussion board
!
Affiliated Wikis
More Isaac Wikis

Edmund's Game Wikis