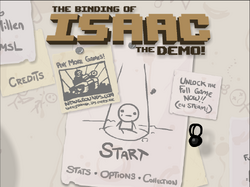 The Binding of Isaac DEMO (also titled as The Binding of Isaac: The Demo!) is a demo of The Binding of Isaac released in October 8, 2011 a month later after the full game's launch.
The demo is playable in Newgrounds for free which can be played from here. It requires Newgrounds Player to be installed since the discountinuation of Adobe Flash Player.
Differences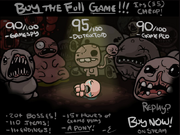 Isaac is only playable while Cain, Magdalene, and Judas are completely locked each with the "Full game!" text above.

Although Cain and Magdalene can be "unlocked" by fulfilling the conditions, it is still impossible to select them.

There are 2 out of 8 levels, including The Basement and The Caves chapters respectfully.
Available bosses include:
Achievements
Master of Sins - Defeat one of the seven deadly sins.
Basement - Complete the Basement.
Secret Room - Find a secret room.
Caves - Complete the Caves.
Money well Spent - Buy something in the shop.