Scolex (スコレックス, Sukorekkusu) (also known as the Tapeworm from the artbook) is a large red tapeworm boss which can be found in The Womb. He is an older version of Pin.
Behavior
Scolex's main method of attack is to pop out of the ground and jump at Isaac in an arc, and then burrowing back into the ground. He is completely immune to damage, except at the end of his red, blinking tail.
Scolex will also sometimes poke a part of his body out of the ground, exposing either his head or his tail. If it's his head, he will fire 3 IPECAC shots at Isaac and dive back into the ground. If it's his tail, he will fire multiple blood shots with varying sizes, similar to Monstro's attacks.
Scolex is hard to hit, but has the lowest health of all bosses in the game. However, if the player has Wrath of the Lamb installed, Scolex's health will be significantly buffed.
When Scolex pops out of the ground, if Isaac hit his tail, Isaac deal much more damage than when he exposes his tail and fire the blood shots.
Champion Variant
Eternal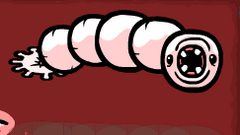 When Eternal Scolex's head pops out, it shoots 4 IPECAC bombs that leave creep. Shooting at the invulnerable parts (head and body) will cause all tears to be reflected back.
Trivia
Scolex is most likely heavily inspired by the Lanmola boss from The Legend of Zelda: A Link to the Past.
Scolex is the name for the head of a parasitic tapeworm.
Scolex's head and tail attacks are swapped in Rebirth.
Bugs
Videos
Bosses
Chapter 1
| | |
| --- | --- |
| Widow | Pin |
Chapter 2
| | |
| --- | --- |
| The Husk | The Hollow |
Chapter 3
Chapter 4
| | | |
| --- | --- | --- |
| Teratoma | Lokii | Conquest |
Chapter 5
Chapter 6
Any Chapters



Gurdy Jr.

*



Blighted Ovum

*



The Carrion Queen

*



The Wretched

*



Daddy Long Legs

*



The Bloat

*



Triachnid

*