Mama Guts is a monster first added in the Wrath of the Lamb expansion, and also return in the Rebirth remake. They first appear in Chapter 4.
It appears as a large blob of internal organs, much larger than regular Guts.
Behavior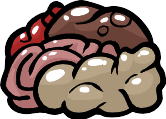 Instead of attaching to an object, they slowly move around the room, eventually firing 8 large blood shots. Killing it will cause it to split into 2 Guts.
Eternal Champion Behavior
It fires 8-way bullets in a single rapid session. Upon death, it spawns 2 Eternal Guts and 1 Eternal Clotty.
Notes
From the

Afterbirth

DLC for Rebirth, Mama Guts has a chance to spawn 1 or both

Scarred Guts

upon death.
Trivia
From the original game, they can be found in Necropolis. They no longer appear in this chapter from Rebirth, however.
Monsters
| | | | | | | | |
| --- | --- | --- | --- | --- | --- | --- | --- |
| Sucker | Spit | Spider | Big Spider | Trite | Maggot | Charger | Spitty |



Globin



Gazing
Globin



Knight



Selfless
Knight



Horf




Maw




Red Maw



Psychic
Maw




Boil





Gut







Sack






Clotty





Clot






I. Blob






Eye



Bloodshot
Eye
| | | | | | | | |
| --- | --- | --- | --- | --- | --- | --- | --- |
| Host | Red Host | Baby | Angelic Baby | Keeper | Hanger | Poky | Slide |



Brain




Membrain




Guts




Mama Guts




Leech



Kamikaze
Leech


Holy
Leech




Para-Bite
| | | | | | |
| --- | --- | --- | --- | --- | --- |
| Swarmer | Mask + Heart | B. Licker | Fred | Lump | Embryo |