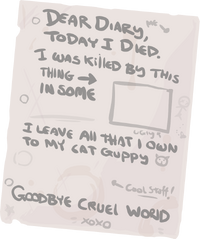 Isaac's Last Will is the Game Over screen of the game. It is shown when Isaac runs out of Hearts, and offers a breakdown of the player's progress in the game. It follows the following format:
Dear Diary, today I died.
To the right a distressed Isaac is shown, switching between him bloated, tripping, etc.
I was killed by this thing →
The arrow points to a small box in the corner, with a crude drawing of the enemy that dealt the killing blow to Isaac. Under the picture says "ugly" with an arrow pointing at the drawing. Various enemies use the picture of the enemy that was used to code them. For example, the Trite's picture is that of a Hopper.
in some ____________
The blank will be filled with the following descriptions, depending on which Chapter the player got to.
I leave all that I own to my cat Guppy (cool stuff!)
All of the Items collected by Isaac will be listed here, with the same icons from the pause menu and the Collection page.
Goodbye cruel world xoxo ____________
The character's name will fill in the blank.
Gallery
Trivia
"xoxo" is slang for "Hugs & kisses", commonly used in text messaging.