Gish (ギシ, Gishi) is an alternative boss replacing Monstro II in The Depths. He is unlocked after beating The Depths 30 times.
Description
He appears very similar to Monstro with tar colors, beady yellow eyes and sharp fangs.
Behavior
Gish's attack pattern is similar to that of Monstro II. However, instead of a blood beam, he attacks with exploding projectiles that leave behind puddles of tar that slow down the character. Instead of Monstro II's Sucker-spawning attack, Gish spawns two smaller Clots based on himself. Unlike with Monstro II, his first stomping attack does not produce any projectiles.
Gish is unlocked by clearing The Depths 30 times. Upon defeat, he will drop Little Gish if the character do not already have it.
Strategy
Gish is an easy boss once the character get the hang of his attack patterns. His leaps into the air are easy to avoid and his spawned Clotties are simple enemies. His tar ball attack is easy to dodge, as the character can just run in a circle and Gish will usually miss. With this fight, patience is the key.
Champion Variant
Eternal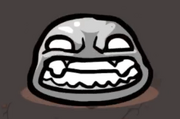 Eternal Gish always spawns 2 Clots (sometimes I. Blobs) whenever he jumps, and shoots 3 IPECAC shots instead of 1.
Trivia
Gish is a character from Edmund's game, Gish.
Gish was also an unlockable in another of Edmund's games, Super Meat Boy and the free flash game Meat Boy, and appeared as a part of customization in his game Host.
In another flash game by Edmund, Spewer, one of the power-ups Spewer can get makes him look similar to Gish.
Gish means 'to spew' or 'to vomit'.
Bug
If Gish appears in Depths XL, the Little Gish item may not drop even if the player did not pick it up before.

If the player has Mom's Purse, Little Gish is guaranteed to drop if they don't have it, otherwise a random item from boss item pool is spawned.
If the player has both Mom's Purse and Little Gish, a random item from boss item pool is spawned.
If the player doesn't have Mom's Purse, Mom's Purse will be a guaranteed drop regardless the player has Little Gish or not.

This may apply to other bosses that has a guaranteed item drop.
Gallery
Related Achievements
"I Have Sticker Fingers..." - Defeat Gish.
Bosses
Chapter 1
| | |
| --- | --- |
| Widow | Pin |
Chapter 2
| | |
| --- | --- |
| The Husk | The Hollow |
Chapter 3
Chapter 4
| | | |
| --- | --- | --- |
| Teratoma | Lokii | Conquest |
Chapter 5
Chapter 6
Any Chapters



Gurdy Jr.

*



Blighted Ovum

*



The Carrion Queen

*



The Wretched

*



Daddy Long Legs

*



The Bloat

*



Triachnid

*