Embryos are one of the weakest monsters and the Blastocyst's last stage type.
Behavior
Embryos hop around aimlessly, but can still deal contact damage. This enemy can spawn on any floor and is usually met in a room with a Blood Donation Machine.
Champion Variant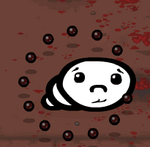 Eternal Embryo in its full-size shoots large rings of blood shots every time it jumps. Upon taking enough damage, it splits into 4 smaller Eternal Embryos that shoot less blood shots. Smaller Eternal Embryos, however, can only split into 2 even smaller ones, and they no longer shoot blood shots if they are smaller than half-sized ones.
A full-sized Eternal Embryo can split 4 times, for a total of 32 extremely small Eternal Embryos.
Trivia
An embryo is a multicellular diploid eukaryote in an early stage of embryogenesis, or development.
Embryos bear a strong resemblance to Spewer, the character of the game Spewer which was also created by Edmund McMillen.
Embryos use the same death sounds as gooballs from the game World of Goo.
Embryos have a boss health meter due to them being the final stage of Blastocyst and therefore the game counts them as a boss, as confirmed by Edmund McMillen.[1]
References
Monsters
| | | | | | | | |
| --- | --- | --- | --- | --- | --- | --- | --- |
| Sucker | Spit | Spider | Big Spider | Trite | Maggot | Charger | Spitty |



Globin



Gazing
Globin



Knight



Selfless
Knight



Horf




Maw




Red Maw



Psychic
Maw




Boil





Gut







Sack






Clotty





Clot






I. Blob






Eye



Bloodshot
Eye
| | | | | | | | |
| --- | --- | --- | --- | --- | --- | --- | --- |
| Host | Red Host | Baby | Angelic Baby | Keeper | Hanger | Poky | Slide |



Brain




Membrain




Guts




Mama Guts




Leech



Kamikaze
Leech


Holy
Leech




Para-Bite
| | | | | | |
| --- | --- | --- | --- | --- | --- |
| Swarmer | Mask + Heart | B. Licker | Fred | Lump | Embryo |