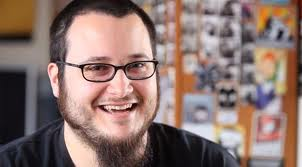 Edmund McMillen is the one of the two creators of The Binding of Isaac, the other being Florian Himsl, who programmed the game. He also helped in creating other video games, such as Super Meat Boy, Gish, and Aether.
Early Life
McMillen has been a lifelong resident of Santa Cruz, California. In spite of the city's scenic attraction, he preferred to stay in-doors. He was especially fond of drawing, his favorite subjects being monsters. Some of his drawings were deemed so disturbing that his third grade teacher recommended that he be given a psychological evaluation. Edmund spent most of his childhood with his grandmother, whom he considers to be the greatest source of support in his creative endeavors.
Career
McMillen's initial graphic work was in independent comics. While he has largely abandoned this field in favor of video games, he has released a series of comics featuring Meat Boy, the title character in the video game Super Meat Boy, as a promotional tie-in for the game. His most well-known games are the Flash-based game Meat Boy, and its much-lauded sequel Super Meat Boy, which has been released for the Xbox 360 platform and PC. McMillen is also known for the award-winning games Gish, Aether and Coil. Gish won Game Tunnel's 2004 Adventure Game of the Year, as well as Indie Game of the Year. His game Coil was nominated for the Innovation Award at the 2009 Independent Games Festival. McMillen was the original character artist and animator on Braid before those assets were replaced by the work of David Hellman. Braid went on to win the Innovation Award at the 2006 Independent Games Festival prior to its release, and several awards in 2008, including GameSpot's Best Platformer, and Best Original Downloadable Console Game, and the 12th Annual Academy of Interactive Arts & Sciences Awards Casual Game of the Year. His game Aether was a 2009 IndieCade finalist and received an honorable mention.
Gallery
Trivia
Edmund has a tattoo on his left arm of surgical markings
He is featured as a mini-boss in The Binding of Isaac, Ultra Pride
Edmund has dyslexia, which is the cause of his spelling errors (including the ones in The Binding of Isaac).[1]
External links
Template:People