Brains are enemies appearing in The Binding of Isaac and the Rebirth remake. They can commonly be found in The Depths and The Womb.
Behavior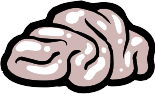 Brains move around the room slowly, leaving a trail of red Creep that does one full heart of damage to Isaac. They are relatively weak on their own, but can quickly corner Isaac when fought in groups.
Eternal Champion Behavior
Eternal Brain will leave creep and occasionally, shoot a homing blood shot which deals one full heart damage.
Notes
2 Brains can be spawned after killing MemBrain.
Trivia
In the original game, Brains flash in color red for few seconds every time while moving. However, they no longer does so in Rebirth.
Monsters
| | | | | | | | |
| --- | --- | --- | --- | --- | --- | --- | --- |
| Sucker | Spit | Spider | Big Spider | Trite | Maggot | Charger | Spitty |



Globin



Gazing
Globin



Knight



Selfless
Knight



Horf




Maw




Red Maw



Psychic
Maw




Boil





Gut







Sack






Clotty





Clot






I. Blob






Eye



Bloodshot
Eye
| | | | | | | | |
| --- | --- | --- | --- | --- | --- | --- | --- |
| Host | Red Host | Baby | Angelic Baby | Keeper | Hanger | Poky | Slide |



Brain




Membrain




Guts




Mama Guts




Leech



Kamikaze
Leech


Holy
Leech




Para-Bite
| | | | | | |
| --- | --- | --- | --- | --- | --- |
| Swarmer | Mask + Heart | B. Licker | Fred | Lump | Embryo |