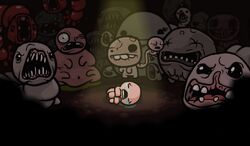 Bosses are much stronger monsters and must be fought at the end of each floor. The boss will be randomly chosen based on which area the player is currently in. Some bosses can be Champions like normal enemies, which can change their pattern somewhat; this occurs more often once the player has beaten the full game for the sixth time and onward.
Upon death, bosses either drop an item which increases a single stat or an item unique to that particular boss. In addition, they drop random health pickups; two at the start or one after unlocking "Everything is Terrible". If the boss was an alternative version, it drops one additional random health pickup upon death.
Standard Bosses
Chapter 1
(Wrath of the Lamb expansion)
Chapter 2
The Catacombs
(Wrath of the Lamb expansion)
Chapter 3
(Wrath of the Lamb expansion)
Chapter 4
(Unlocked after defeating Mom)
(Wrath of the Lamb expansion)
Added in the Halloween update, can be entered by entering the trapdoor in the Devil Room after the Mom's Heart/It Lives! fight. After Ending 10, a trapdoor to Sheol will always appear after killing It Lives.
Added in Wrath of the Lamb, can be entered after killing It Lives! by touching the beam of light.
After defeating Isaac while holding The Polaroid trinket, opening the golden chest in the middle will take you to The Chest instead of displaying ending 12.
Anywhere
(Except for floors where "final bosses" appear.)
Unlockable Bosses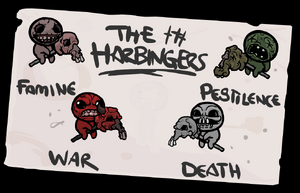 These bosses are only available after defeating Mom for the first time, where after the credits you will unlock the secret "The Horsemen are on the loose!". They drop a meat cube upon defeat, and the player can fight one of them at the end of a floor by using the Book Of Revelations. Without it, it is extremely rare to fight enough Horsemen to finish a Meat Boy, although this is possible.
Alternative Bosses
These bosses are only available after finding their respective unlocks.
Mini-Bosses
Each level has a chance to include a Special Room where the player can face a mini-boss.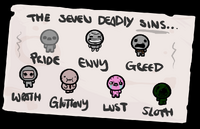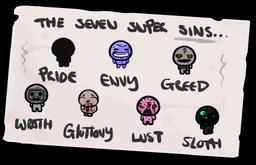 The "Super Deadly Sins" were added in the Wrath of the Lamb expansion and will sometimes appear instead of the regular version of the accordant Deadly Sin.
Ultra Pride
The boss called Ultra Pride was added into the Wrath of the Lamb expansion in version 1.3. Upon defeating him, the achievement and item The Left Hand is unlocked.
Boss Treasures
Boss Drops
Common Drops
Wrath of the Lamb additions
Boss Specific Drops
Bugs
Trivia

Bosses
Chapter 1
| | |
| --- | --- |
| Widow | Pin |
Chapter 2
| | |
| --- | --- |
| The Husk | The Hollow |
Chapter 3
Chapter 4
| | | |
| --- | --- | --- |
| Teratoma | Lokii | Conquest |
Chapter 5
Chapter 6
Any Chapters



Gurdy Jr.

*



Blighted Ovum

*



The Carrion Queen

*



The Wretched

*



Daddy Long Legs

*



The Bloat

*



Triachnid

*